Frequently Asked Questions
CANNON'S POINT PRESERVE
The St. Simons Land Trust is grateful to the hundreds of supporters who enabled the purchase of this historic and environmentally significant property, including visitors, and full and part-time residents. We are honored to play a role in preserving this 608-acre peninsula for the benefit of the community and for future generations by providing a space for passive recreation, experiential outdoor education, and research. Maintaining this preserve as one of the most biodiverse ecosystems in the world is the highest priority.
Below are some of the questions that have been asked about Cannon's Point Preserve. If there are questions that you want further clarification on after reading the FAQ document, please call our offices (912-638-9109) and schedule an appointment with our staff. Thank you.
---
What and where is Cannon's Point Preserve? Cannon's Point Preserve is a peninsula on the eastern side of Lawrence Road, north of the fire station on the island's north end. Cannon's Point is linked to the lower Altamaha River delta. The Altamaha is recognized as one of the most biologically rich systems and considered by The Nature Conservancy as a coastal area of highest priority, even internationally. The Nature Conservancy (TNC) holds a perpetual conservation easement on Cannon's Point that prevents future commercial or residential development and ensures protection of the land and the properties conservation values forever. This 608-acre property was purchased by the St. Simons Land Trust in September of 2012. The Preserve contains some of the last intact maritime forest on St. Simons Island and is rich in cultural and natural history. The peninsula has over six miles of salt marsh, tidal creek and river shoreline that provide habitat for wildlife such as oysters, birds, fish, and manatee. Shell middens dating back to 2500 BCE are on the site, as are the ruins of the large plantation home and slave quarters built by John Couper in the 1800s.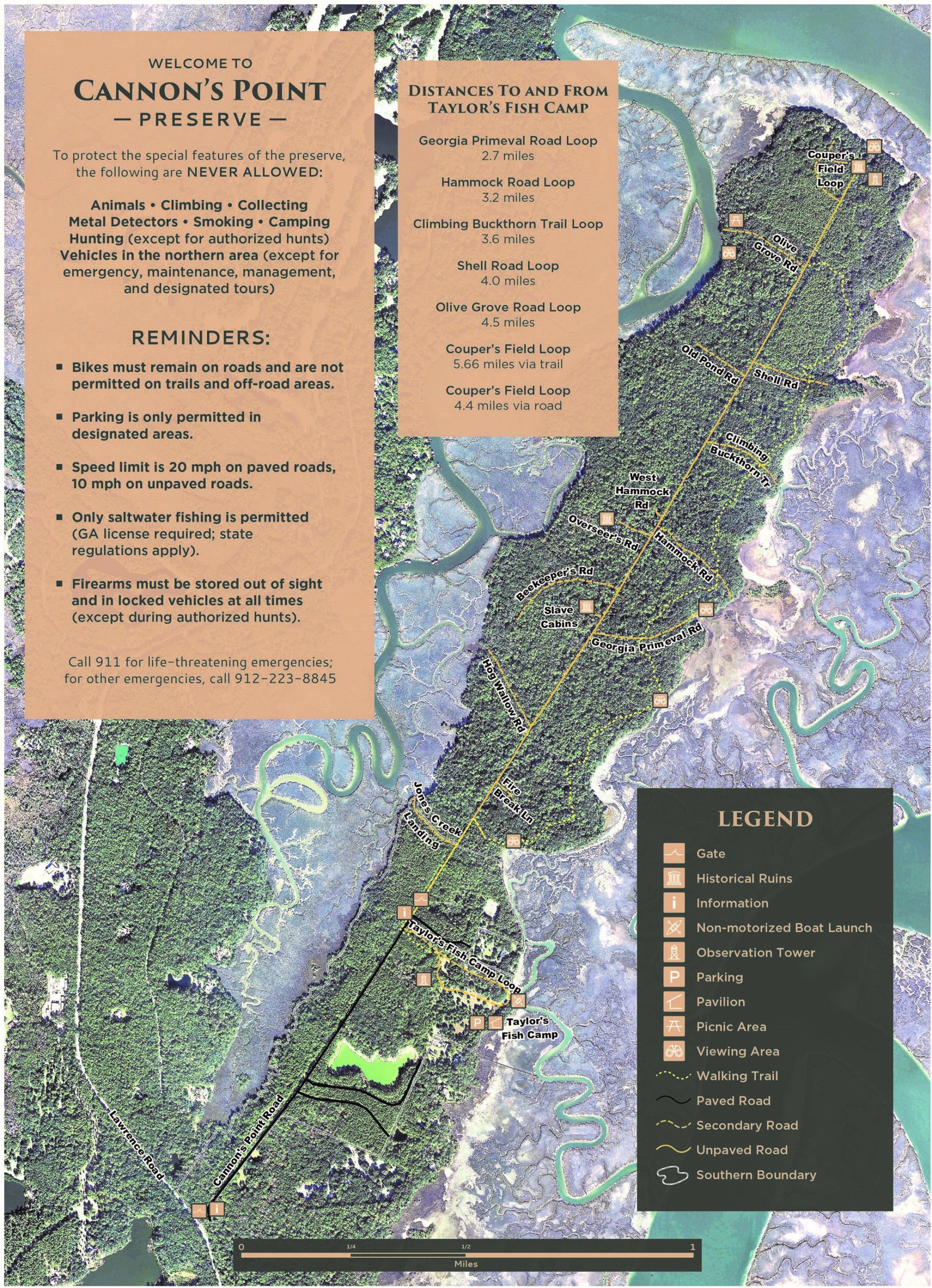 Who owns Cannon's Point Preserve? CPP is owned by the St. Simons Land Trust with a conservation easement held by The Nature Conservancy.
How is the Preserve accessed? The only entrance to the Preserve is off Lawrence Road at Cannon's Point Drive, a private road that leads to the old Taylor's Fish Camp on Lawrence Creek. An education pavilion, kayak launch, lab, hiking trail, observation tower, and restrooms are located there. All vehicle parking is restricted to designated sites in the Southern area. This includes four spaces that are handicap compliant.
What are the Preserve hours? The Preserve is open Saturday-Monday from 9:00AM to 3:00PM at no charge. The non-motorized boat launch is open Saturday-Monday from 9:00AM to 1:00PM.
What happens if visitors are not off the Preserve by closing time? The regulations for the Preserve are in place for the safety of all visitors and the natural ecosystems that are protected. When visitors violate any of the regulations, they will be notified via a violation form. The form lists additional consequences should violations continue.
What sorts of activities can be conducted at Cannon's Point Preserve? Visitors can enjoy hiking, biking, birding, photography, kayaking, viewing historic ruins, and other low-impact outdoor activities. Guests will find interpretive signage along the trails and at the sites of historic and ecological importance.
May we walk our dogs on a leash at Cannon's Point Preserve? The conservation easement does not allow dogs or other pets on the property. This is to protect the wildlife, habitat, and plants on the Preserve as well as ensuring the enjoyment and safety of other visitors who are walking, hiking, biking, and visiting the property. Trained service dogs are permitted on site.
Can we picnic onsite? Visitors are welcome to bring food and drink for a picnic, but trash must be taken with you. There are picnic tables placed throughout the Preserve and their locations can be found on the map. The Preserve practices "Leave No Trace" which means there are no trash cans on site. We ask visitors to "leave only footprints and take only pictures". Please remember there is no potable water on site.
What should we bring/wear if we plan to hike or bike ride to the end? The hike or bike ride to the plantation house ruins is roughly 5 miles round trip taking people an average of 2 hours of hiking or 40 minutes of biking. Please bring plenty of water, any snacks you may need, and we recommend wearing close-toed shoes. Bug spray and sunscreen may be needed as well. Please remember to pay attention to the weather as southeast Georgia weather consists of rapid weather change (ex: sudden thunderstorms, extreme heat and high humidity).
Is Cannon's Point Preserve family friendly? Visitors of all ages can enjoy the Preserve. Scavenger hunts for children of all ages can be found at the Georgia Pacific Education Pavilion. There are also special event days where there are designated activities for children.
Are metal detectors allowed? Metal detectors are not permitted on site. Due to the sensitive natural and cultural resources, the Ecological Management Plan (EMP) prohibits the use of metal detectors and the collection or disturbance of resources at the Preserve without prior review and permission from the Preserve Manager and the Task Forces.
Can I fly my drone at Cannon's Point? Drones or unmanned aerial vehicles (UAVs) are not permitted at the Preserve without written approval from the Preserve Manager for specific research or management purposes. There has been a dramatic increase in the number and use of UAVs in recent years. The increase in the use of these devices has the potential to cause unacceptable impacts such as harming visitors, interfering with emergency operations, causing excessive noise, impacting view sheds, damaging historic resources and critical infrastructure, posing security risks, and disturbing wildlife. This policy is necessary to maintain public health and safety within all lands and waters administered by the St. Simons Land Trust and to protect resources and visitors.
Why are no vehicles allowed to drive to the northern tip of the peninsula? Vehicle trips are limited to pre-approved organized tours. The Preserve conservation easement limits the number of vehicle trips through the northern area each year, excluding trips for management purposes. This limitation was put on the Preserve to protect the sensitive natural and cultural resources that are found throughout the Preserve.
Can we fish off the dock? Yes, saltwater fishing is permitted at the Preserve. You must follow state rules and regulations and will need a valid Georgia fishing license if 16 years of age or older.
Why are the Preserve's open hours so limited? The purpose of the Preserve is to protect and share the biodiverse ecosystems that are found on the property. Due to the sensitive nature of the natural and cultural resources, there is a need for on-site personnel during open hours which includes staff and numerous volunteers. Our volunteer base is growing which has allowed us to be open for more holidays and we do hold special education days where we extend our hours of operation.
Why don't you spray for mosquitos? The mosquito species that are most common at Cannon's Point are the two species of salt marsh mosquitoes. These mosquitoes breed in the rich salt marsh ecosystem surrounding the peninsula of the Preserve and across the Altamaha delta. The salt marsh mosquitoes are not known for carrying diseases such as West Nile or Encephalitis. Mosquitoes have been around for millennia and are an integral part of the ecosystems that we all love to enjoy and protect. In their larval stage, mosquitoes are not only a great food source for fish and predatory insects but according to entomologist, Catherine Gill at Purdue University, they are also filter feeders helping to turn over organic matter. Once they emerge from their larval stage and take flight, they serve as a food source for birds, salamanders, bats, lizards, frogs, and various other species, while also being pollinators. At Cannon's Point we do not spray for mosquitoes as the chemical affects all insects and we know that insects play an important role in the ecosystem. We also know that human safety is paramount. If there is a local documented health emergency, we will allow Glynn County Mosquito Control to spray at the Preserve.
Why is there no kayak launching two hours prior to closing? The distance from the dock to the mouth of Lawrence Creek is roughly 1 mile. The Recreation Task Force recommended that most people who go out for a paddle would need to have a 2-hour window to launch, paddle and load up. This was determined to be the most effective way to allow visitors to enjoy their visit to the Preserve and still leave the property by closing time.
Why is there fencing around the ruins? The fencing has been placed around the historic ruins to keep people from damaging these 200+ year old structures. These ruins and the areas surrounding them are fragile areas which are sensitive to human disturbance, therefore it was recommended and agreed that there would be a barrier installed. The Land Trust worked with the History and Archaeology Task Force and determined that fencing, which is anchored in with rebar stakes, is minimally invasive to the cultural resources but still allows for visitors to view the ruins in their entirety.
Why are there private residences inside the Preserve? There are 5 inholdings at Cannon's Point Preserve, none of which are part of the Preserve. These inholdings are private property that have been in place for decades prior to the St. Simons Land Trust purchasing the Preserve. Please respect the privacy of our neighbors by abiding to signage such as "Authorized Personnel Only".
What are the volunteer opportunities? There are many volunteer opportunities at Cannon's Point. We have volunteers performing a wide array of duties: greeters, bike patrol, trail trimming, road trimming and educational guides. We are always looking to expand our volunteer base and hope to offer more volunteer opportunities in the future.
How do I sign up to be a volunteer? Click HERE to register as a Land Trust volunteer.